SNOW PARK
Play to your heart's content in the snow. Go sledding, tubing or just enjoy playing in the snow together. Children 3 years and younger can also use indoor play room.
Period:
Dec 4, 2021 ~ Mar 6, 2022
*Business period is subject to change according to snow conditions.
Price:
1) Snow Tubing 2) Sledding Course 3) Snow Playground 
Admission: 300 yen (per person) *Sledding equipment and course are not available.
Fee: 1-day ticket 10:30-16:30 1100yen Afternoon ticket 15:00-19:30 1100yen 30-minute ticket (30 minutes from entrance time) 600yen 60-minute ticket (60 minutes from entrance time) 800yen (per person fee) *includes entrance fee and equipment rental 
*Children under 9 must be accompanied by the guardian.
*Please note that there will be no management staffs in this area.
Other:
No staff are stationed in the Snow Park. Please wear warm clothes and be careful not to fall or get injured by running into others.
SNOW DRIVE
A new winter sport for everyone to try in addition to skiing and snowboarding.
Don't be fooled by its compact size for it can take you on a thrilling and fun ride at a speed you might not be expecting!
You can easily master it even if you've never skied before. After 10 minutes of practice runs, head for the Family Course and have a go at it!
Period:
December 4, 2021 ~ Until the end of Kiroro Snow World
*Business period is subject to change according to snow conditions.
Price:
Snow Drive Rentals:¥2000 (1 day) (Tax incl.)
Reception:
Mountain Center Ticket Counter
Other:
*Please wear gloves, a hat or a helmet, and snow boots.
*Snow Drive Courses:Family Course, Yoichi No.1-B Course
*This is not a guided tour.
GAME PARK GRANSHIP
Granship is a facility with many different games that you can use even in bad weather condition.
You can enjoy all different games with one entrance fee. Adults and children will enjoy all things.
Period:
4 December, 2021 ~ until the end of Kiroro Snow World
Operating Time:
15:00 - 21:00 (20:30 Last admission)
Price:
Unlimited entry ¥1,000
Under 5 years old : Free of charge
Family Pack ¥2,500 (3 - 4 person)

KIROCA Discount 10% OFF
*Children under 12 must be accompanied by a paid parent or guardian.
*Prices include tax.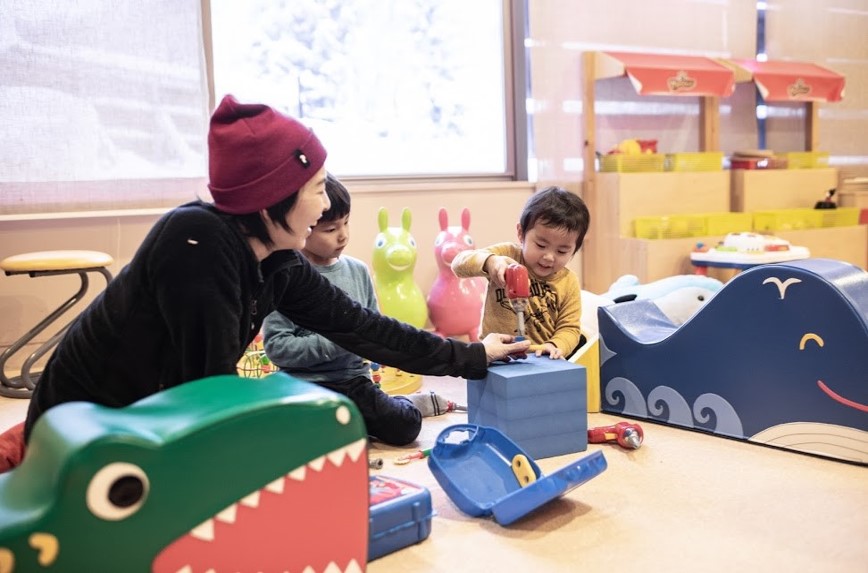 KIDS CARE PROGRAM
We offer kids ages 2 years old to 7 years old a safe licensed center with highly qualified instructors who engaged kids in social, fun and comfortable activities during their stay.
Period:
December 18, 2021 - April 3, 2022
Operating Time:
9:00 to 12:00, 13:00 to 16:00 (please note that we don`t accept kids during lunch time between 12:00~13:00)
Price:
Half day ¥2,800 (9: 00-12: 00 or 13: 00-16: 00) Full day ¥ 5,200
(For a Full day - 12: 00-13: 00 please pick up the kids)
Reception:
Yu Yu Kan - Kids Area in Granship
Reservation:
Please apply to Hotel Front until 12:00 the day before to register. 
(Please press TALK + Guest Service Bottom from the room, outside 0135-35-3131)
Other:
Indoor child care program provided by the certified childcare givers.

Drop-off Time: 8:30 a.m. to 09:00 a.m.
Pick-up Time: 12:00pm or 16:00 p.m.

Snack is not provided for a full day and half-day childcare.
Please bring some healthy snacks for your kids.

Personal items must be supplied by the parents.

Please provide us with nappies or nappy cream

If your child has any skin allergies, please provide us with appropriate lotions and we can administer as needed.