BAGGAGE DELIVERY SERVICE
For clients who are planning to visit Kiroro, we provide a baggage delivery service.
The express delivery service counter is available at each hotel – "The Kiroro, a Tribute Portfolio Hotel, Hokkaido" and "Sheraton Hokkaido Kiroro Resort", during the winter season. We will keep your baggage until your arrival, so please confirm in which hotel you are staying, before sending a luggage. At the Express delivery service counter there is also a possibility to resend your baggage (only by "Yamato Transport" ).
(*Kiroro is situated in the mountainous region, which is the reason why we recommend you sending your luggage few days earlier than usual.)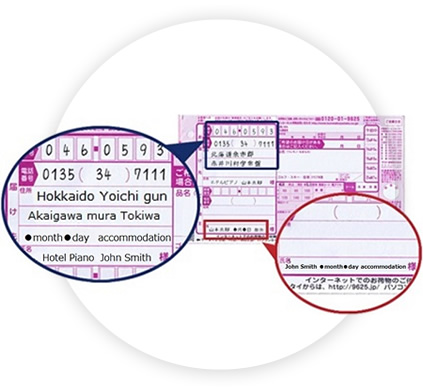 DELIVERY ADDRESS
Postal Code

046-0593
Address

Aza-Tokiwa, Akaigawa-mura, Yoichi-gun, Hokkaido, Japan
Telephone

0135-34-7111
*This Postal Code is for Kiroro Resort usage only
SENDER'S NAME (CLIENT)
Please write your name in the column of sender along with the number of nights/ month/ day accommodation of your stay.
DELIVERY ADDRESS NAME
Please state the name of the hotel you are planning to stay along with the receiver's (sender's) name.
1. Care of Kiroro "Tribute Portfolio" + receiver's name
2. Care of Kiroro "Sheraton Hokkaido" + receiver's name
If you would like to send your ski equipment in advanced during the winter season, please send it in care ofSheraton Hokkaido.Please write your name in the column of sender/ consignee along with the day / month-day, day-trip use of your visit.
KIRORO RECEPTION/ POST COUNTER